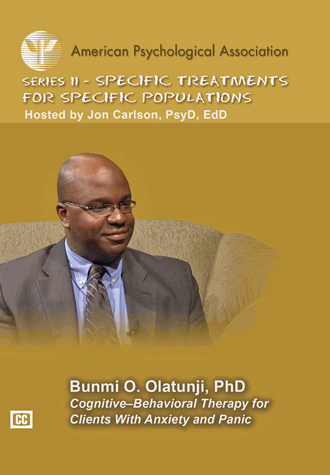 Cognitive-Behavioral Therapy for Clients With Anxiety and Panic
Bunmi O. Olatunji, PhD
Beskrivelse
In Cognitive–Behavioral Therapy for Clients With Anxiety and Panic, Bunmi O. Olatunji demonstrates this effective and versatile approach to helping clients meaningfully change detrimental patterns in their thoughts and actions.
Cognitive–behavioral therapy views anxiety as the result of maladaptive habits of thinking and behavior, usually including the tendency to overestimate the possibility of something negative occurring and to avoid that which produces anxiety. Studies have found that avoidance temporarily eases fear, but tends also to reinforce it so that it continues over time. To counter this, the therapist often will teach new ways of thinking and gradually expose the client to that which causes anxiety.
In this session, Olatunji works with a young woman who is suffering from panic attacks. First he provides some psychoeducation about the purpose of fear and anxiety, and then helps her to see the irrational aspects of the rationalizations she makes for feeling the way she does.